We're back with our WWE Super ShowDown Preview and Predictions. There are very intriguing matches as well as history making one as far as Bayley and Naomi are concerned. Many questions will be answered in Saudi Arabia and more will be raised, as we're on the road to WrestleMania in just a few weeks!
WWE Championship Match- Brock Lesnar(c) vs Ricochet
Brock Lesnar heads into Saudi Arabia and he'll have his hands full against the challenger, Ricochet. "The Beast" usually has a much tougher time against smaller and quicker opponents. Lesnar is one win away from going to WrestleMania and defending his WWE Championship against Royal Rumble nemesis, Drew McInyre. Brock better not look past his opponent because Ricochet has nothing to lose and is literally playing with house money this Thursday and is fully capable of pulling off a major upset in Saudi.
Prediction– Brock Lesnar
WWE Universal Championship Match- "The Fiend"(c) vs Goldberg
The last time Goldberg was seen in Saudi Arabia things didn't go too well in what was supposed to be a dream match up against The Undertaker. Their match ended up being a nightmare and one of the worst matches in 2019. After a win against Dolph Ziggler at SummerSlam, Goldberg is looking for some Saudi redemption by trying to conquer an enigmatic opponent that no other WWE Superstar has been able to solve and defeat in "The Fiend" Bray Wyatt. As we get closer to WrestleMania, rumors are running rampant that a Title changer could be in the works at Super ShowDown. It's really hard to imagine WWE deciding to derail The Fiend's momentum, but a Goldberg vs Roman Reigns match for the Universal Championship in Tampa might be too tempting for Vince McMahon to pass up. This match could be the one they're all talking at the water cooler the next day.
Prediction– Goldberg
Steel Cage Match– Roman Reigns vs King Corbin
The feud with Roman Reigns and King Corbin will come to an end inside of a steel cage at Super ShowDown. No one can enter and only one man will emerge victorious. The conflict between "The Big Dog" and Corbin has escalated through the months. After interference from the Usos in recent weeks, Corbin stated that the only reason he ever comes up short against Reigns is because of his cousin's help. Roman responded by saying that he would be happy to give him a match with no outside interference and challenged The King to a Steel Cage Match in Saudi Arabia. This has been a long and dragged out feud and it finally ends at Super ShowDown.
Prediction– Roman Reigns
SmackDown Tag-Team Championship Match– The New Day vs The Miz & John Morrison
John Morrison's return to WWE has been nothing short of underwhelming and to be put back alongside former tag team partner, The Miz, just feels like company didn't really know how to properly re-introduce him. Now a rejuvenated Miz and Morrison have an opportunity to walk away with the Tag- Team Titles at Super ShowDown against The New Day. Kofi Kingston and Big E have the experience heading into this match, but it wouldn't be that surprising if the former champs re-capture that magic from several years ago and leave Saudi Arabia as the new SmackDown Tag Team Champions.
Prediction– The Miz & John Morrison
Inaugural Tuwaiq Trophy Gauntlet Match– R-Truth vs Rey Mysterio vs AJ Styles vs Bobby Lashley vs Eric Rowan vs Andrade
The United States Champion, Andrade, returns from suspension to compete in the prestigious Tuwaiq Trophy Gauntlet Match. Rusev was scheduled to compete in this match but had to pull out due to injury. Bobby Lashley has promised to come away victorious while Eric Rowan could be the ultimate wildcard. Rey Mysterio and R-Truth bring their veteran presence, but it just seems that this is AJ Style's match to lose. AJ has been teasing being the new "Mr. WrestleMania" and wouldn't it be just apropos if a jubilant Styles celebrates his win and then all of sudden, Gong! The Undertaker appears to challenge him at WrestleMania. This match will most likely offer the most memorable moment of the night.
Prediction– AJ Styles
SmackDown Women's Championship Match– Bayley(c) vs Naomi
Naomi gets her first shot at the SmackDown Women's Title since returning to action in a history making match at Super ShowDown. Natalya and Lacey Evans made history at Crown Jewel by becoming the first women to have a match in Saudi Arabia, but this time Naomi and Bayley will have the first Women's Title match in Saudi. There are still no concrete plans on what WWE will do with the SmackDown Women's Title at WrestleMania, but things could get much clearer after Bayley and Naomi make history this Thursday.
Winner– Bayley
RAW Tag Team Championship Match– Seth Rollins & Murphy(c) vs The Street Profits
The Street Profits have been a thorn in side of Seth Rollins in recent weeks and after holding their own in singles matches against the RAW Tag Team Champions confidence sure is high for Montez Ford and Angelo Dawkins. Murphy has come into his own under the tutlelage of the "Monday Night Messiah" and with the AOP always lurking the odds just might be against Ford and Dawkins to walk away victorious at Super ShowDown.
Prediction– Seth Rollins & Murphy
Humberto Carillo vs Angel Garza
The rivalry between cousins has been taken to different level with Garza getting the best of Humberto last Monday Night. Carillo and Garza have proved that they are the future of Latin American Wrestling in WWE. Garza has capitalized with his opportunity on RAW and his matches with Carillo have been bright spots on the show. If given enough time this match could steal the show.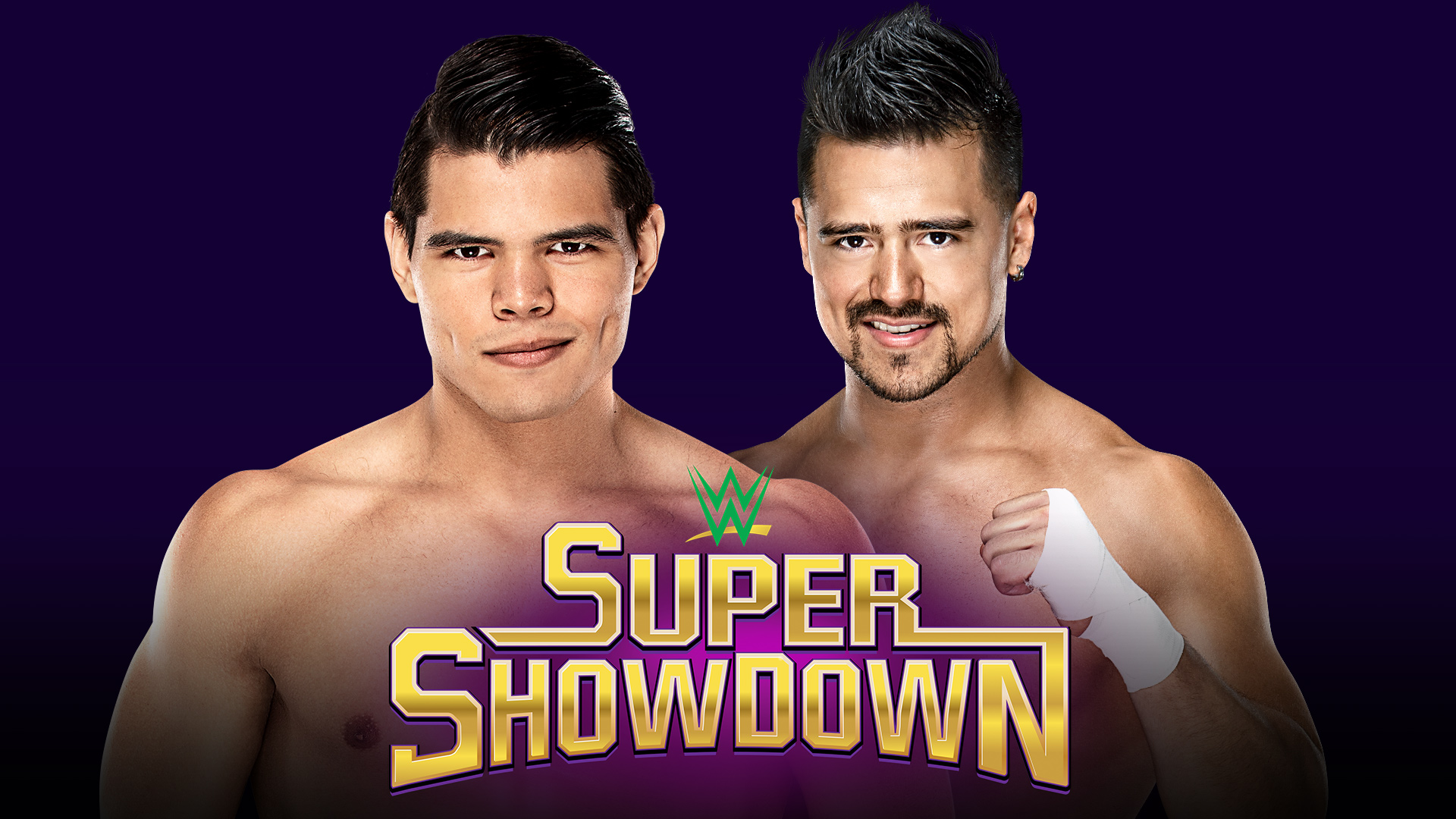 Prediction– Humberto Carillo
Mansoor vs Dolph Ziggler
We might as well just call Mansoor "Mr. Saudi Arabia." He's unstoppable in his home country just look at the facts, winner of the Greatest Royal Rumble and a victory over Cesaro. If I was a gambling man I'd say to "bet the house" because there's no way that Dolph is winning this one. Plus, Ziggler might just have too much Mandy Rose on his mind which really isn't a bad thing.
Prediction– Mansoor
Super ShowDown Kickoff– The Viking Raiders vs Karl Anderson & Luke Gallows
The ultimate revenge for The Viking Raiders would be to totally annihilate Karl Anderson and Luke Gallows at Super ShowDown. After losing out at Crown Jewel the title of "Best Tag Team In The World" to Gallows and Anderson it would make sense that Hanson and Rowe are going to be extra motivated to redeem themselves in this match.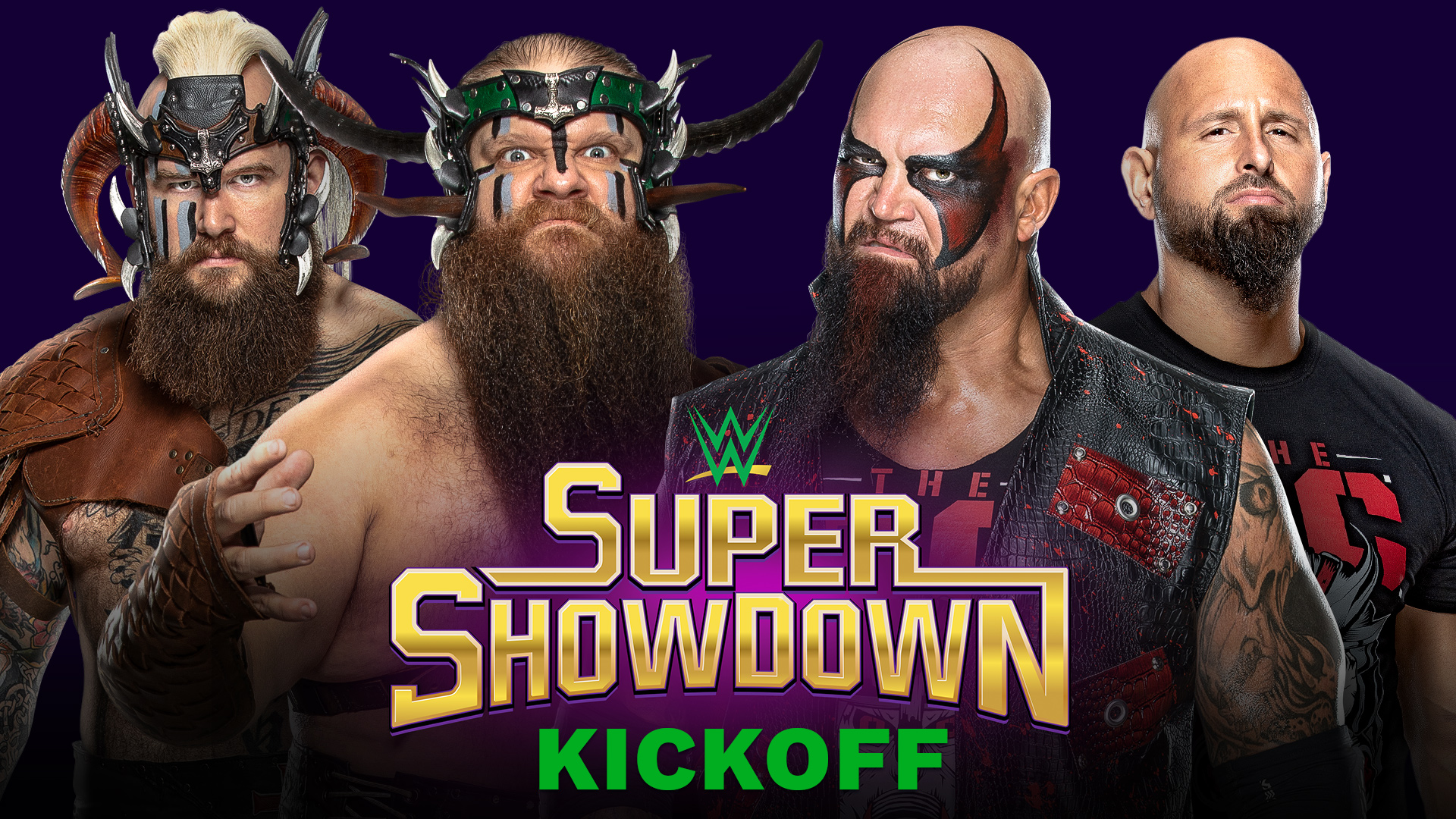 Prediction– The Viking Raiders
Make sure to catch our AEW Revolution Preview this Friday!
Don't forget new episodes of High Spot Podcast w- Jeff Martin & Bryan Burga are available every Friday on Bodyslam.net iTunes & Soundcloud
Subscribe, click the notification bell, & like the video
Follow High Spot Podcast on all our social media platforms
Twitter: @highspotpodcast Instagram: @highspotpodcast
Check out High Spot Podcast's brand new store at Pro Wrestling Tees! Be part of "The Crew" and buy the shirt! CLICK HERE!
The post WWE Super ShowDown Preview And Predictions appeared first on BodySlam.net.
Article source: http://www.bodyslam.net