Welcome to the very first episode of The XFL Pod Show with Jeff Martin. This week Jeff emphasizes the need for better quarterback play throughout the league and which two teams are clearly the class of the XFL right now! Jeff Martin previews the full slate of games for Week 3, names his Player of the Week, and of course unveils his world famous Week 2 Power Rankings.
Let's take a look at the XFL standings in each division after Week Two.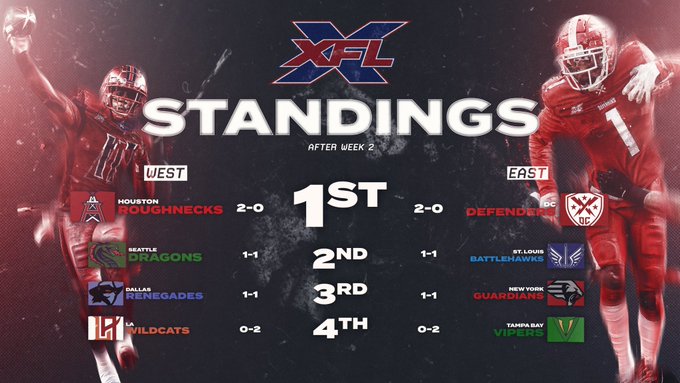 XFL Player of the Week- Cameron Artist-Payne- RB Dallas Renegades
Cameron Artis-Payne had a great day running the ball for the Renegades in a 25-18 road victory over the Los Angeles Wildcats. Payne rushed for 99 yards and 2 touchdowns and was very instrumental in getting Dallas in the win column.
Every week we'll take our crack at ranking each XFL team from one to eight Below are our XFL Power Rankings for Week Two.
HSP Week One- XFL Power Rankings
Houston 2-0
DC 2-0
St. Louis 1-1
Seattle 1-1
Dallas 1-1
New York 1-1
Los Angeles 0-2
Tampa Bay 0-2
The DC Defenders make their first road trip to the west coast to take on a winless LA Wildcats team that is desperately trying to avoid going 0-3. Plus. the Renegades look to roll when they visit the Vipers in Tampa and the Guardians try to get back on the winning track when they travel to St, Louis and do battle with the Battle Hawks.
We'll be covering the XFL for the rest of the season on Bodyslam.net
Join the conversation and follow us on Twitter – @TheXFLPodShow
Don't forget new episodes of High Spot Podcast w- Jeff Martin & Bryan Burga are available every Friday on Bodyslam.net iTunes & Soundcloud
Subscribe, click the notification bell, & like the video
Follow High Spot Podcast on all our social media platforms
Twitter: @highspotpodcast Instagram: @highspotpodcast
Check out High Spot Podcast's brand new store at Pro Wrestling Tees! Be part of "The Crew" and buy the shirt! CLICK HERE!
The post Quarterbacks Need To Run The Show- Player Of The Week- Power Rankings appeared first on BodySlam.net.
Article source: http://www.bodyslam.net