We always tell you anything can happen in Primal Conflict Wrestling and that was certainly true the night "The Franchise" Shane Douglas showed up and changed the course of Primal Conflict Wrestling history! Watch the FREE preview at this link
https://pcw247.pivotshare.com/media/primal-conflict-wrestling-fire-away/68524/preview and then use promo code AFTERSHOCK19 and receive one FREE month of PCW24/7!
Anything can (and probably will) happen on Sunday, July 14 at "Aftershock"!
Get your tickets now at www.primalconflictwrestling.com/tickets.html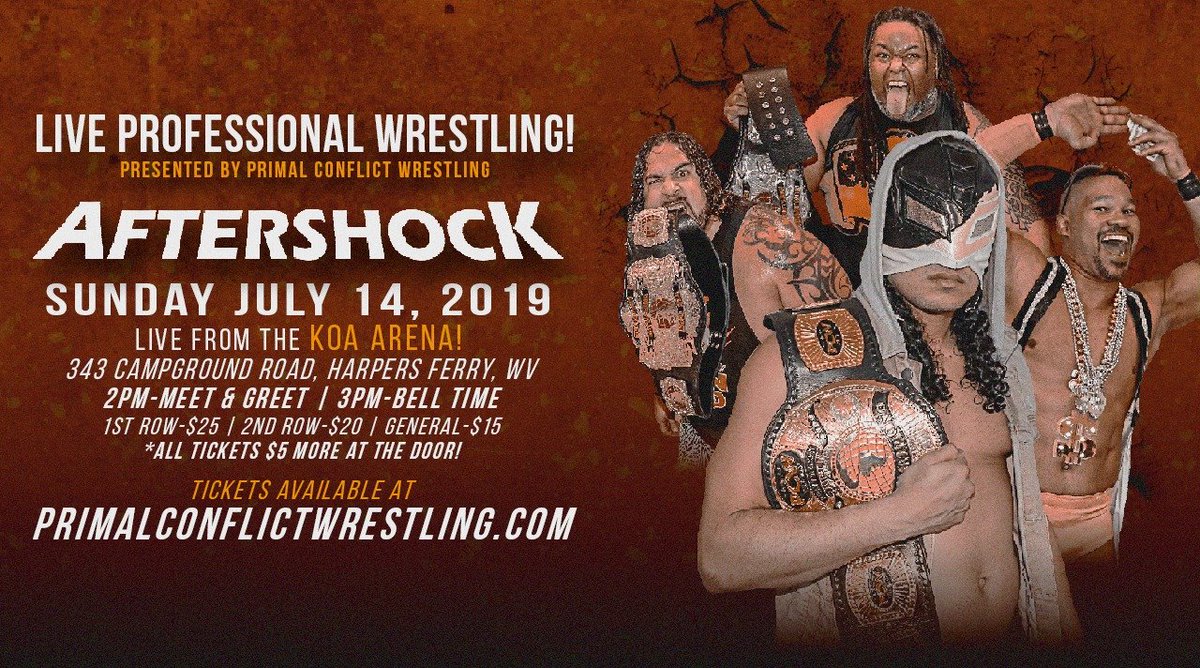 Primal Conflict Wrestling presents 
"Aftershock"
 Sunday, July 14, 2019
Doors Open at 2pm for Meet & Greet
 3pm Bell Time 
Harpers Ferry KOA
343 Campground Road
Harpers Ferry, West Virginia 
Already signed:
 – Primal Conflict Wrestling Champion FENIX FURY 

 – Primal Conflict Wrestling Tag Team Champions SAMOAN ASSAULT SQUAD (former WWE Star AFA JR. & NUI TOFIGA) 

  – Primal Conflict Wrestling Television Champion DIRTY MONEY
 –  KEN DIXON
 – DEMARCUS KANE
  – LOGAN EASTON LAROUX
  -"The Prince of Pro" ALEXANDER JAMES
  – G-FED
  – RUSH HOUR- "Hot Boy" TOMMY SETO & "Showtime" DEION EPPS
  – BLACK WALLSTREET- DROLIX & CHUCK LENNOX
  – PUNK ROCK ALL-STARS
  – and many more!
Ticket Info: 
VIP Front Row- $25 In Advance; (Only 3 left!)
 VIP Second Row– $20 In Advance; 
 General Admission -$15 In Advance; 

* All Tickets $5 more at the door 
** Advance sales cut off July 13
*** There is an additional charge for photographs and
autographs, as set by individual talents. 

Advance Tickets on sale NOW at
www.primalconflictwrestling.com 
Follow Primal Conflict Wrestling on Twitter https://twitter.com/PrimalConflict

Subscribe to PCW 24/7 for just $4.99 a month
https://pcw247.pivotshare.com/