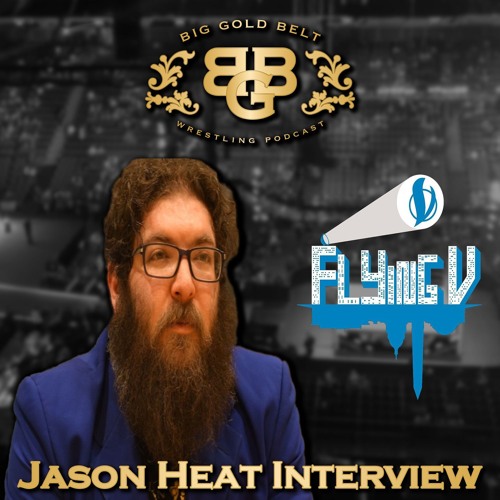 Today on the Big Gold Belt Podcast, The #BGB Crew has special guest: Jason Heat
–
Jason Heat is the Color Commentator, Producing Artistic Director of Flying V Theatre (https://twitter.com/flyingvtheatre) and Freelance Director/Dramaturg and Pro Wrestling Commentator
Jason Discusses Flying V as they are about to launch a brand new Pro Wrestling wing with our inaugural event:
FIGHT OR FLIGHT
Friday, January 25th
Doors – 7:30pm / Bell Time: 8pm
The Silver Spring Black Box
8641 Colesville Rd, Silver Spring, MD 20910
$30 Front Row Tickets / $20 General Admission
Tickets https://fvwrestling.brownpapertickets…
Flying V continues our tradition of exploring and exploding the intersection of combat, art, and storytelling by bringing our Awesome vision to the world of Professional Wrestling!
Featuring top wrestling talent from all over the country, the best from our region, and members of the DC Theatre Community, all coming together in Silver Spring in a battle to be the Best. Be ready for a night of incredible in ring action, pageantry, character, and spectacle as we present the inaugural FIGHT OR FLIGHT! Seats are extremely limited, so act quickly to guarantee yourself the best time ever.
–
Follow their social media pages below
Twitter: https://twitter.com/JasonHeatFV
Facebook: https://www.facebook.com/FlyingVTheatre/

#Wrestling #Interview
* Please Subscribe, Click that notification bell & Like the video if you enjoyed !
https://www.youtube.com/c/BigGoldBelt?sub_confirmation=1
Be sure to leave comments in the comment section below
https://www.youtube.com/c/BigGoldBelt
* Be sure to visit us at https://biggoldbeltgroup.com/
Any and all Feedback is greatly appreciated!
What the YouTube Video Below
Listen to the Soundcloud Audio Below