WWE has been known to come up with some of the very best stories in pro wrestling history. Some of their best ideas are organic, that tend to be the best ones and some ideas are recycled with a fresh new twist and some are just way too out of the box that they just leave us scratching our heads.
WWE employs creative writers with all types of different backgrounds and are always under intense scrutiny from not only Vince McMahon, but from wrestling fans. Sometimes the best ideas don't even come from within the company as we've learned from our recent interview with former WWE Superstar Abraham Washington, who after an eight year absence is trying to make a comeback under his new wrestling persona Reverend Jeremiah Washington.
Reverend Jeremiah Constantine joins High Spot Podcast and talked about getting his ideas "hacked" by WWE and their creative team.
"I feel they're using certain elements of my material and yeah, I'm not too happy about it. You know because here's the thing I sent the WWE a video of me doing the Jeremiah Constantine thing the whole religious aspect with the studio audience mind you. All these things that I use right now and I got a response from someone saying that "okay I'm going to send this to a lead writer" so I know that they've seen the material and they know what I'm doing you know and certain aspects of that have come out on TV and I've never gotten a response from them, so it just upsets me the fact that you can't even acknowledge me and that you're taking from my stuff, especially with the Seth stuff, the Monday Night Messiah. I'm pretty sure they got that from my promos. Then they had Bray Wyatt doing the newscast thing you know which I'm doing right now, so it's just like eh whatever."
Which leads to this Monday Night on RAW where Seth Rollins is scheduled to deliver his first ever sermon to the masses. WWE will of course put their spin on an idea and fine tune it as their own to avoid any type of litigation.
It's actually quite hard to prove if WWE is indeed truly "hacking" ideas from Jeremiah Washington but all we can do is point out the similarities and let you, the fan, be the judge. Below is one of Jeremiah Constantine's sermons.
* The views and opinions expressed by Jeremiah Washington and do not necessarily reflect the policies and positions of Bodyslam.net
If tonight's Seth Rollins' sermon looks anything like this then we will really know there's something to what Jeremiah Constantine is preaching about the WWE.
Let's take another look at Jeremiah Constantine's "Pro Wrestling Analysis" compared to Bray Wyatt's "Firefly Funhouse News" and again we'll let you be the judge.
* The views and opinions expressed by Jeremiah Washington and do not necessarily reflect the policies and positions of Bodyslam.net
BREAKING: Now we're in the conspiracy theory ballpark! Right before we were going to post this article, All Elite Wrestling has come out with some new merchandise for Sammy Guevara. The new "Hit Me Up" wrestling tee is quite similar to Seth Rollins' "Monday Night Messiah" but not to mention Jeremiah Washington's image behind a stained glass window.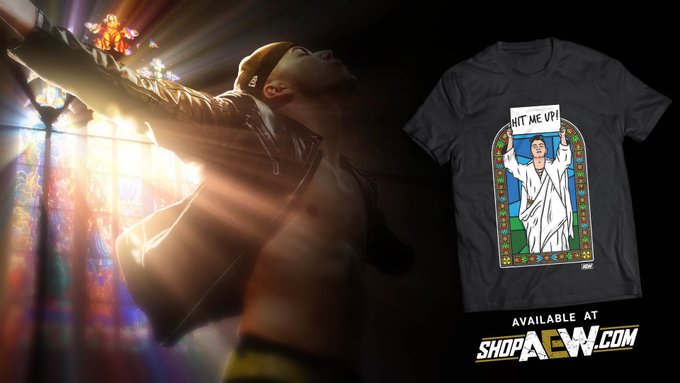 At the end of the day I guess we're all hacking from each other in some form or another, but is it right?
Don't forget new episodes of High Spot Podcast w- Jeff Martin & Bryan Burga are available every Friday on Bodyslam.net iTunes & Soundcloud
Subscribe, click the notification bell, & like the video
Follow High Spot Podcast on all our social media platforms
Twitter: @highspotpodcast Instagram: @highspotpodcast
Check out High Spot Podcast's brand new store at Pro Wrestling Tees! Be part of "The Crew" and buy the shirt! CLICK HERE!
The post EXCLUSIVE- Former WWE Star Claims His Creative Ideas Are Being "Hacked" appeared first on BodySlam.net.
Article source: http://www.bodyslam.net